Whether you are preparing your body for marathon season or participating in more low key running events: like the ones that reward you at the end with an ice cold beer (pints pavement pounders) it is important to listen to your body. We know accidents happen, people push through pain & determination occasionally gets the best of us and our plantar fasciitis. Just remember we're here to help. Our doctors are happy to answer questions, create treatment plans that work with your lifestyle, & help you get back to doing the activities you enjoy.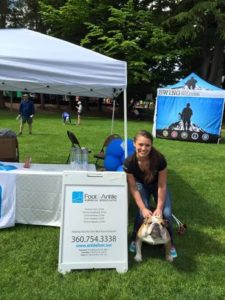 This Sunday we have staff members that will be representing our clinic at the Tacoma marathon. We are excited to be a part of this year's event. It is our first time participating, but are looking forward to many more in the coming years. Angel, Tiffany & I will be manning our booth. Even if you don't plan on running we would love to see you stop by and take advantage of our orthotic discount and other goodies. We can't offer you an ice cold beer after the race, but we will have FASA ice packs ready to go!
Some fun marathon trivia for you: Phillippi and Paul Morrison started the marathon in 2007, reviving the short-lived Tacoma marathon held in 1980 and 1981. J
Another upcoming event we will be attending is the Capital City Marathon. I have been for the past 6 years & it is definitely one of my favorites. I normally get to bring my bulldog Snotz, and am accompanied by different doctors & Scott our PT throughout the two day event.  There are runners from all over, but there is such a strong sense of community between everyone involved that makes this run different.
​
Seems I am not much of a runner, I wanted to find some fun tips for those of you that are new to the sport and may need a little advice before your feet hit the pavement. In my search I stumbled across Becomingminimalist a blog that had some wonderful tips for you! Enjoy!!
​
​
12 Most Important Lessons for Life I Learned During My First Marathon.
Dreams are not meant to be wasted. We all dream of things that we want to accomplish in life. And they all have the same thing in common: They begin by taking one small step. For me, the first step was to read a book about running a marathon. That's it. From there, I put the book into practice and began working hard to fulfill my dream. It became completely within reach by simply taking one small step at a time. Whether your dream is to write a book, start a business, travel to Europe, or make things right with your children, they all begin with taking one small step. Don't waste any more time. Your dreams can be accomplished – one small step at a time.
Fuel properly. You can't complete a marathon without fueling your body correctly. Remember, your body is your home base for life. So fuel it properly by eating healthy. You only get one life and one body to live it in – take good care of it.
Compete Less. Encourage More. Marathon runners are notorious for offering encouragement to one another. They understand an important race principle: there is room at the finish line for all of us. It isn't all about winning or losing, it's about the experience and being in it together. As a result, the entire 26.2 mile race was filled with encouragement from bystanders and competitors committed to helping the other guy finish strong. Our world could learn a lot from marathon runners. Imagine how much better this world would be for everybody if we learned to encourage more and compete less.
Drive slower. Roads are shared by bicyclers, runners, and walkers. Therefore, drive slower and more courteous… someone's life may just depend on it.
Shed the excess. When I started training, I ran with an ipod, headphones, a cell phone, and a small snack. But I learned a valuable lesson about half-way through my training.
Shed the excess. Possess less and carry as little as possible. I began running with nothing in my pockets and enjoyed the runs infinitely more – there were less things weighing me down. The same holds true with life. Shed your excess possessions. Get rid of any possessions in your home/life that are not necessary. They are weighing you down more than you think. You will enjoy life infinitely more by carrying as little as possible.
I enjoy silence. Some marathoners like to run listening to music. I thought I did too – until the first time I ran without it. I soon began to love the quietness. I was able to listen to my body and focus on the run. In addition, my mind was freed up to think about my life and evaluate it. Some people enjoy running with noise. But I have grown to love the silence. You just may learn to love silence too if you give it a shot… And I'm not just talking about running.
To view the rest of the list visit becomingminimalist.com!


12 Life tips were written by Joshua Becker. Visit becomingminimalist.com for more information.