Lapiplasty Versus Other Methods of Bunion Treatment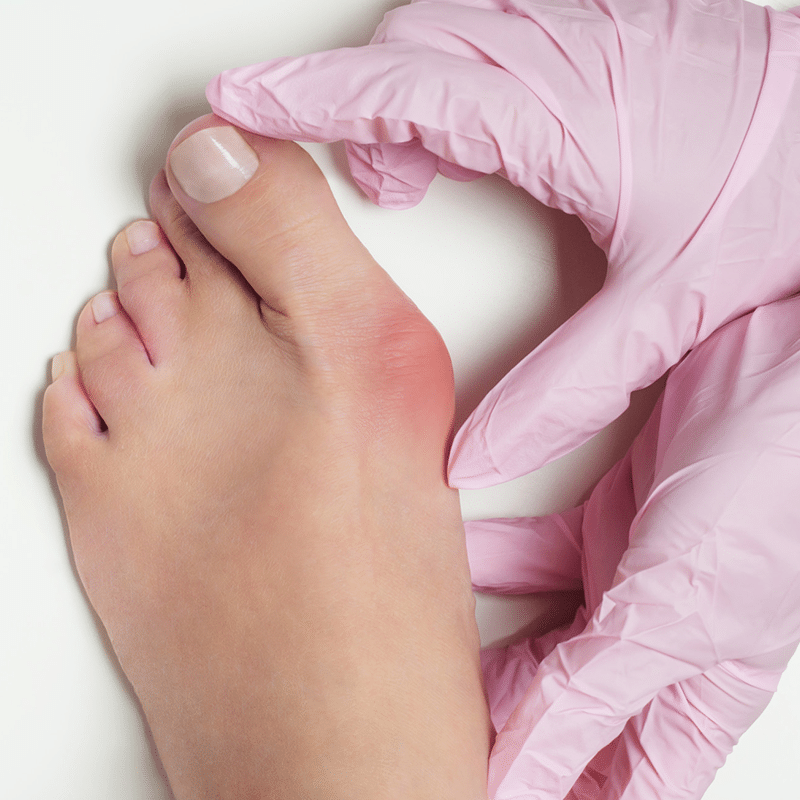 Bunions are among the most common orthopedic issues affecting the feet. Studies show that 10-25% of Americans suffer from bunions.
Among specific populations, this number rises dramatically. According to the American Orthopaedic Foot and Ankle Society (AOFAS), as many as 55% of older women have bunions.
Importantly, however, bunions can strike anyone at any age.
If you are among those suffering from bunions, you need relief. Finding relief requires learning about your condition and possible treatments.
Lapiplasty is among the most promising new treatments for bunions. Read on to learn more about lapiplasty and how it compares to other methods of bunion treatment.
Bunions are bony protrusions that appear on the inside of the big toe. A common misconception is that an overgrowth of bone causes this protrusion, or bump. Rooted in this misconception, some surgical bunion treatments involve removing part of the bone. Unfortunately, these treatments do not address the underlying problem.
In fact, bunions do not represent an overgrowth of bone. Rather, they indicate a deformity of the foot's anatomical structure. In almost all cases, moreover, this deformity is complex and occurs in three dimensions. In other words, bunions involve three shifts in the first metatarsal.
The first metatarsal lies between the phalanges in the big toe and the tarsals in the mid-foot. When the joint between the first tarsal and metatarsal becomes unstable, the first metatarsal can shift in three directions.
First, the metatarsal begins to lean sideways. Second, it lifts, transferring an excessive load to the other toes. Finally, the metatarsal can rotate out of alignment, causing abnormal wear.
The most effective treatments, like lapiplasty bunion surgery, address this complex, 3D deformity.
What Are the Symptoms of Bunions?
The most obvious symptom of a bunion is a bulge at the base of the big toe. Some bunions produce this visible deformity and no additional symptoms. Over time, however, many bunions begin to cause discomfort.
Additional symptoms of bunions include:
Bunion pain, redness, and swelling can be constant or sporadic. You might notice that certain factors increase the irritation. Wearing ill-fitting shoes can contribute to the formation of bunions. It can also aggravate existing bunions. Overuse can further irritate a bunion.
If you notice any of the above symptoms, it's important to seek medical advice. An experienced podiatrist will conduct a physical exam and X-Ray to evaluate your foot's anatomy. Based on these findings, your doctor can recommend an effective treatment.
Left untreated, bunions can lead to additional complications. These include bursitis, arthritis, hammertoe, and metatarsalgia. Scheduling routine preventative visits and seeking prompt treatment when issues arise are important steps you can take to protect yourself from these painful conditions.
Bunion treatments include conservative options and surgical treatment. Discuss all of your options with your doctor before deciding on a treatment plan.
Conservative Treatments
Nonsurgical treatments focus on relieving symptoms and preventing further misalignment. These measures include:
Hoping to avoid surgery, many patients try these conservative methods first. Some patients find that they can, for a time, manage their discomfort using nonsurgical treatments.
Still, even conservative treatments present disadvantages. First, the long-term use of anti-inflammatories is associated with serious health risks. These risks increase in older adults.
Cortisone injections can offer longer-lasting relief from inflammation and pain. However, they, too, involve risks, especially with frequent use. To reduce these risks, experts recommend limiting cortisone injections to no more than 3-4 times per year.
Even icing a bunion can involve risks for certain patients. For example, some patients with circulation problems should consult a doctor before beginning an icing regimen.
Other patients put their hopes in bunion splints, sleeves, toe spacers, and other orthotic devices. These devices may appear to improve the alignment of the affected joint. They may also provide some pain relief when walking or performing other activities.
However, bunion splints cannot "cure" or "correct" a bunion. Any improvement or relief is temporary, lasting only as long as the patient wears the device.
In fact, the biggest drawback of all conservative treatments is that none of them address the cause of the problem. Bunions involve a three-dimensional misalignment of the bones and joints. Only certain surgical treatments can correct this complex misalignment.
Among the most common surgical bunion treatments is the osteotomy.
An osteotomy involves shaving or cutting the part of the bone that protrudes from your foot. It can also involve cutting the first phalange or metatarsal to shorten and realign the bones. Pins are used to hold the newly segmented bones in place. To further realign the foot, tight tendons and ligaments are released. Meanwhile, loose tendons and ligaments are tightened.
Following an osteotomy, the patient's foot is placed in a cast for between three and six weeks. Some procedures require patients to avoid bearing weight on the affected foot for six to eight weeks.
Of course, full recovery times vary depending on the extent of the realignment required. However, the average recovery from traditional bunion surgery can take up to 6 months.
Still, some patients find that their recovery takes a year or more. Others find that they never recover fully. In fact, a third of patients are dissatisfied with the results of traditional bunion surgery.
In addition to lengthy recovery times and significant postoperative pain, common complications from traditional bunion surgery include:
Among the most common of these complications is ongoing pain, swelling, and stiffness. Recurrence of the bunion is also common. This is because traditional bunion surgery fails to address the root cause of the problem.
In fact, traditional bunion surgery takes a 2D approach to a 3D problem. A newer technique—lapiplasty—takes a more effective 3D approach.
In fact, traditional bunion surgery takes a 2D approach to a 3D problem. A newer technique—lapiplasty—takes a more effective 3D approach.
In contrast to traditional bunion surgery, lapiplasty corrects the root cause of the bunion. In other words, it addresses the misalignment in all three dimensions. Moreover, it achieves these corrections in a less invasive manner than traditional bunion surgery.
Unlike an osteotomy, lapiplasty does not involve cutting or shaving the bones. Instead, it uses advanced instruments to push the entire metatarsal bone back into place. With the proper alignment achieved, lapiplasty uses innovative titanium plate technology to secure the bones.
In this way, lapiplasty naturally and permanently corrects the protrusion and straightens the toe. It also protects patients from the above complications, produces greater patient satisfaction, and significantly reduces recovery time.
Karla's story:
"You can't just still especially on a sunny day."
Frequently Asked Lapiplasty Questions
Fed Up with Bunion Pain? Put Your Foot Down with Lapiplasty
Bunions affect millions of Americans. If you're among them, you don't have to continue suffering.
Lapiplasty offers a promising surgical treatment option. It involves a less invasive procedure, fewer complications, and a quicker recovery than traditional bunion surgery. It also addresses bunions at their root cause.
Contact your Foot and Ankle Surgical Associates to learn more today. Schedule an in-office visit with one of our experienced podiatrists. Or if you prefer, we also offer telehealth "house calls."