Finding the right pair of shoes goes beyond searching for what's the most attractive. What we wear makes a difference in how we walk, run and jog. Running is a high-impact activity that puts pressure on our feet and knees, and the right shoes are crucial for supporting the body and keeping us comfortable. Here's how to know which running shoes are the best and the ideal brands that support your feet, according to podiatrists.
How to Choose the Right Shoes
If you're unsure how to choose the right shoes, look for the following features:
Proper fit: To start, ensure your shoe fits properly. Since our feet can grow broader or flatter as we age, purchasing shoes that fit and feel secure is crucial. Trying to put your feet in shoes that are too small can cause corns and calluses or lead to bunions and hammertoes. To ensure you're wearing the correct size, measure your feet every two years at a store. Shoe store staff are usually trained to help people choose functional shoes for their activities.
Cushioning: A proper amount of cushioning is crucial when it comes to selecting the best running shoe. When the foot impacts the ground, it causes a lot of force and puts pressure on our feet, which can become painful if your shoes don't have enough cushioning. As a result, look for running shoes with plentiful forefoot and heel cushioning to help with shock absorption.
Lightweight: Opt for a light running shoe designed for speed and performance. Bulky or heavy shoes will only weigh your feet down and make running more challenging.
Arch support: A flexible arch is crucial for a quality running shoe. Ideally, find a pair that's stiff in the forefoot with the right amount of room for your arch. Poor arch support can lead to swelling in the feet and place stress on the knee and hip, causing discomfort in the joints. The right shoe will support your arch, prevent pain and keep you comfortable walking and running.
Breathability: When searching for running shoes, opt for a mesh design that contributes to a lightweight feel and better breathability. After all, your feet will get hot and sweaty while running, creating an ideal breeding ground for fungi and infections. A well-ventilated shoe is ideal for preventing moisture and warmth. Also, note that most shoes labeled "walking shoes" are made from faux leather. Avoid faux leather since it's less breathable, can attract bacteria and can cause odor.
Roomy toebox: The best running shoes will have proper room in the toe box so you can wiggle your toes without touching the front of the shoe. Wiggle room is crucial to prevent calluses and discomfort while walking or running.
Stability: If you notice the words "stable" or "stability" on a shoe's description, it indicates that the shoe is best for people whose feet tend to roll inward when walking or running. Stable shoes are also helpful for people with flat feet looking for more arch support. They often have a dense midsole to prevent feet from collapsing inward.
Motion control: Shoes with proper motion control are often stiffer and heavier than stability shoes. These running shoes can prevent the foot from moving inside the shoe. They can also correct these issues while a person is walking or running.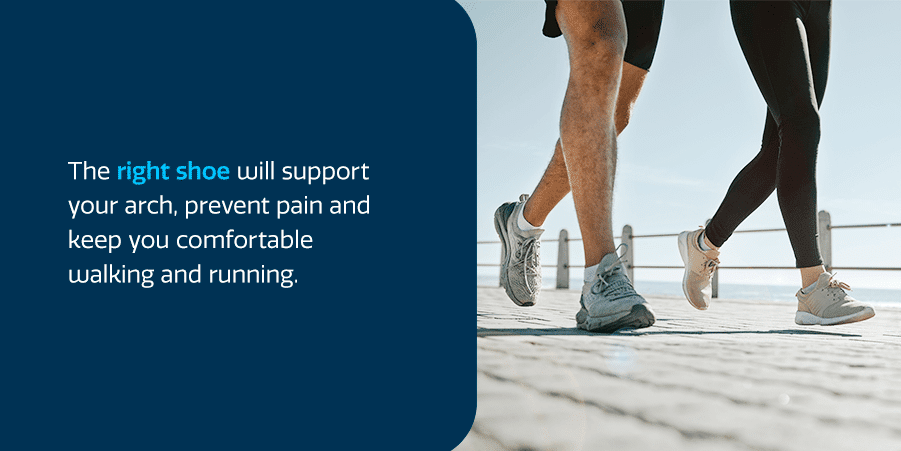 Running Shoe Recommendations
Here are a few podiatrist-recommended running shoes that should support your feet and help you move with ease:
1. New Balance 1540 V3 Running Shoe
New Balance is a brand often recommended by podiatrists. New Balance shoes are generally wide enough to support the arches and accommodate a custom heel cup or orthotic if necessary. The 1540 V3 running shoes come in narrow, wide, extra wide and extra-extra wide options. Their cushioned sole is made from lightweight foam to support the feet while running. Women's shoes 
come in three colors
 and are available in sizes 5-14, while 
men's come in four colors
 and are available in sizes 7-16.
2. Hoka Clifton 8 Running Shoe
Hoka shoes are traditionally well-cushioned, making them ideal for running. The Clifton 8 has a pull tab to help you get your feet in and out quickly, and the cushioned footbed and padding around the ankle and tongue offer an extremely comfy fit. Their shock-absorbing midsole is also ideal for taking those impacts with each step. Both men's and women's shoes come in multiple colors and are offered in wide options. Women's shoes 
range from sizes 5-12
, while 
men's range from 7-16
.
3. Altra Rivera Running Shoe
The Altra Rivera is ultra-lightweight and made from mesh material to give it breathability. The spacious foot-shaped toe box offers plenty of room for your toes, helping the feet expand while running and ensuring your comfort on the trails. These shoes range in colors from orange, green and black to light and dark blue. The women's shoe 
comes in sizes 5.5-12
, while the 
men's is available in sizes 7-15
.
4. Nike's Air Zoom Pegasus 38
For Nike lovers, the Air Zoom Pegasus 38 is a tried-and-true running shoe with cushioned support and a breathable mesh upper. These shoes range from regular to extra-wide and are available in 
women's sizes 5-12
 and 
men's 6-18
. Runners praise this shoe for its super soft comfort and lightweight design, making it practical for walking or running. Additionally, they are a go-to shoe for the casual runner, providing a smooth ride without sacrificing style.
5. Asics GT-2000 10
The Asics GT-2000 10 is another well-known shoe for its cushioning and stability. The shoe helps lessen the impact of your steps without impacting their bounciness. Available in regular, wide and extra-wide widths, this Asics running shoe has been updated constantly to provide the latest technology and the most comfortable feel. They are available in 
women's sizes 5-13
 and 
men's sizes 6-17
.
Trust Foot & Ankle Surgical Associates for Any Foot Problem
It's crucial to know how to select the best running shoes to support your feet and keep you comfortable when you're on the move. Be sure to look for something lightweight, cushioned and breathable with excellent arch support and stability. If you run into any foot or ankle problems out on the trail, turn to Foot & Ankle Surgical Associates. We can help you out when your feet or ankles are causing issues. Our team is highly trained to treat any foot or ankle problem. We can assess the pain, diagnose the problem and determine a treatment plan that works for you. We can also provide advice so you can return to running and other activities as soon as possible. To schedule an appointment, call us today at 360-754-3338 or 
fill out a contact form
.