Diabetes is a systemic, progressive condition that is thought to affect more than 30 million Americans—including 1 out of every 6 persons over age 60.
Because some people can live with it for years (or even decades), a lot of people mistakenly believe that it isn't a big deal, or they'll worry about protecting their feet later if they start to notice symptoms.
Unfortunately, this isn't the way it works—particularly for the feet. High blood sugar slowly corrodes and destroys the nerves in your feet, over the course of years. By the time you notice pain, it's likely that significant damage has already been done. And the longer you wait to get serious, the harder it will be to turn the ship around.
Far too many people don't act in time, or even at all. That's why diabetes is by far the most common underlying cause of non-traumatic amputations in this country. This year alone, more than 100,000 Americans will undergo a lower-limb amputation related to their diabetes—usually due to an infected ulcer that wouldn't heal.
​
Almost all of such cases are preventable.
So if you want to avoid that fate yourself, you're going to want to have an effective plan to protect your diabetic feet! Not only will your risk of catastrophic complications go way down, but your feet will just plain feel better—less pain, improved stability, and continued ability to live your best life.
And we can help you with that.
Preventative Care Services for Diabetic Patients
At FASA, we take a comprehensive approach to helping you manage and alleviate any pain that you do have, while keeping your feet as healthy and safe as possible—so that you can live an active lifestyle without fear or pain.
Here are some of the ways we can help you:
A Thorough Examination
We see patients with diabetes-related foot pain all the time, but that doesn't mean everyone has the same problem—or the same solution! Pain can manifest itself in different ways, for different reasons.
Maybe your biggest struggle is with your diet. Or maybe the shape and structure of your feet themselves are creating dangerous pressure spots. There are many different risk factors for diabetic foot pain and complications. Understanding which of these factors apply the most to your situation is crucial in order to tailor our treatment recommendations so that they'll be most effective for you personally.
​We strongly encourage all people with diabetes to see us for a comprehensive foot exam on a yearly basis, even if there's no history of foot problems. Catching emerging problems early, and dealing with the risk factors as soon as possible, is the best way to ensure those foot problems never develop in the first place.
Lifestyle Coaching and Recommendations
As important as it is to see a podiatrist at least every year, that still leaves 364 days out of 365 where you're going to have to be responsible for managing things on your own.
In short: the most important member of your diabetic foot care team is you.
​That's why we make sure you have all the knowledge and resources you need to properly examine and care for your feet on a daily basis. That may include:
Instructions on how to perform a quick-yet-thorough self-exam of your feet each day, what to look for, and how to determine when it's time to call us for a closer look.
Instructions on how to properly handle common "maintenance" issues before they develop into bigger problems—such as toenail trimming or dealing with dry, cracked skin.
Guidance on how to maintain a diabetes-friendly diet, from our on-site nutritional specialists.
Tips on how to pick out the best socks and shoes.
And of course, we're always a phone call away if you need anything.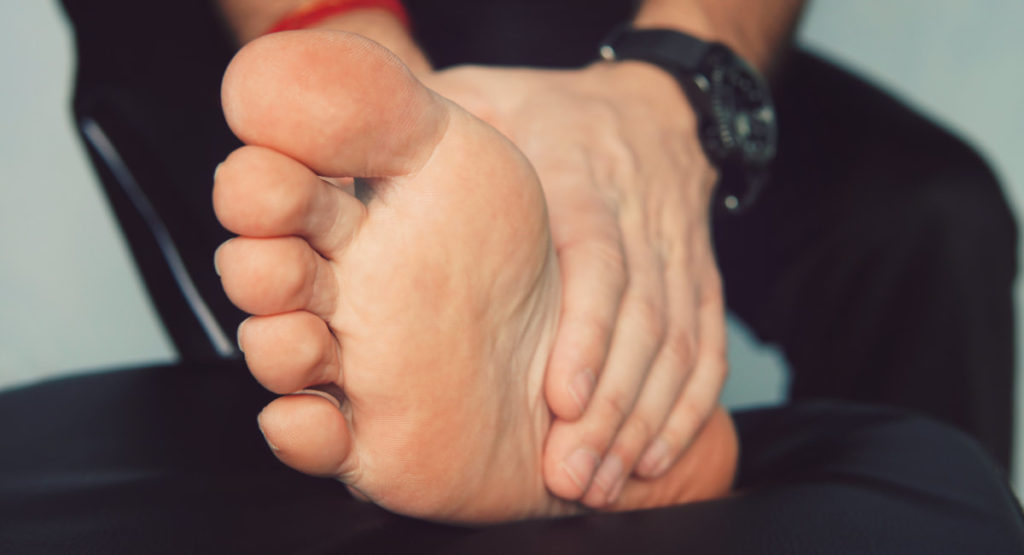 Custom Orthotics and Diabetic Shoes
One of the best and simplest ways for those with diabetes to reduce pain and protect their feet and skin from damage and breakdown is through the use of custom orthotics.
In short, depending on the shape and needs of your feet, the standard insoles that come with your shoes may not really be offering your feet what they need to protect themselves—especially if you have a deformity like flat feet or bunions. Pressure spots and friction can not only cause pain and fatigue, but in some circumstances can even break the skin and form sores.
So to help mitigate that risk, we'll fit you for a brand new set of custom insoles. They're made from molds of your own two feet, so they fit just right and provide the exactly right amount of cushioning and support.
For some people, replacing the regular insoles of their shoes with their new orthotics will be sufficient. For others, we recommend getting a dedicated pair of diabetic shoes.
Before you start getting concerned, understand that diabetic shoes come in all the same cute (or manly!) styles as any other pair of "normal" shoes. There are really only two main differences:
They're a little deeper / taller than normal, in order to make sure that custom orthotics fit as easily as possible.
They tend have a few subtle, diabetes-friendly construction choices to reduce the risk of skin breakdown. For example, the uppers are almost always made from breathable fabrics, and the interior lining may be seamless to cut down on the risk of scratching or snagging on skin.
Other Treatments
Of course, when pain or problems do arise, we're also here to help you stay on top of them so you can make a full recovery, before those problems have a chance to get worse.
For example, for tingling pain related to your diabetes, the right choice may be an injection, laser therapy, or an appointment with one of our physical therapists.
We also provide comprehensive wound care services, including advanced techniques and amniotic tissue grafts. The last thing you want is for an ulcer to get infected, and the best way to avoid that outcome is to protect and heal any wounds as quickly as possible. We'll do everything we can to help you do this.
​If we need to refer you to other specialists, we absolutely will. But the truth is that, for the vast majority of cases, we can handle all of your diabetic foot care needs right in our office. That saves you time, money, and worry!
Tabby's Story
If you want a great, real-life example of this comprehensive approach in action, we'd like you to meet Tabby.
Tabby has known Dr. Hess for almost 20 years, but was only recently diagnosed with Type 2 diabetes. She came in to see us about burning pain in her feet, among a few other symptoms.
​After performing a comprehensive evaluation to narrow down the possible diagnoses and causes, we gave Tabby a temporary walking boot to immobilize her foot and give it a chance to heal. We also recommended injection therapy (for the short-term pain) and made her a new set of custom orthotics (for long-term protection).
Tabby also spoke with our nutritionist, who helped her reconfigure her diet in order to avoid aggravating her condition and make sure that her feet and nerves are getting enough of the essential nutrients they need. This also helped greatly improve her symptoms.
To hear from Tabby herself, make sure you watch the video above!
Don't Let Diabetes Get Control Over Your Feet
If you have diabetes, the right care and advice from one of the foot and ankle experts at FASA can truly make a radical difference in your life.
If you don't yet have any foot or ankle symptoms from your condition, we'll do everything we can to keep it that way.
If you do have symptoms, we'll do everything in our power to address them so you can get back to doing what you love.
But you need to take that first step. If you're experiencing any foot pain, or it's been more than a year since your last diabetic foot checkup, let's get in touch! Feel free to drop us a line online, or call (360) 754-3338 to schedule an appointment at any of our convenient South Sound locations.